Kennedy-McCain joins the Jon Kyl coalition plotting to STOP any amendments from "deal-breaker" changes that would sap its support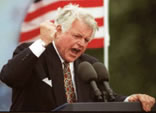 On Monday the Senate bypassed the people and forced an Amnesty First bill to the floor. A select group of Senators will hold daily meetings starting Tuesday to determine whether proposed revisions would sink what they are calling their "grand bargain."
Minuteman Civil Defense Corps (MCDC) Vice President, Carmen Mercer, and Tony Dolz from CA are being joined by MCDC volunteers on Capitol Hill all week during this CRITICAL TIME of DEBATE telling Senators to Secure the Border First say NO to AMNESTY and NEVER to SPP.
The bill is being criticized from every direction including the Minutemen, U.S. Border Patrol, Labor Unions, Hispanic Groups, Presidential Candidates and even many politicians.